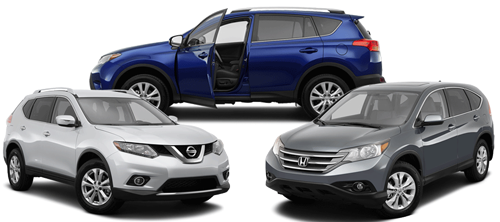 Used SUV Deals Near Paris, TX
When you're in the market for an SUV, you've got a lot of legwork to do. These spacious vehicles have become the preferred mode of family transportation – leading to a jam-packed automotive segment. In order to narrow your options, you'll need to consider things like make and model, size, and features that make your list of must-haves. Are you looking for a zippy little subcompact SUV or a three-row version you can load up for big road trips? How about a compact model that blends the best of both worlds?
If you're like most shoppers, getting a good price on your SUV is one of your top priorities. And if you're looking to get the biggest bang for your buck, you might want to consider purchasing a used model. Here's a tip: Gain access to a variety of SUVs at amazing prices when you shop the used inventory at James Hodge Motor Co.
We maintain a large and diverse selection of high-quality pre-owned cars, trucks, vans, and SUVs at remarkable prices – from trusted brands like Chevrolet, Ford, GMC, Jeep, Toyota, Dodge, and more. And our low everyday prices combine with our commitment to quality in our used inventory. That's why you can shop with confidence, knowing that we only sell vehicles worthy of our valued customers.
Quality and Value
A great price and low monthly payments are what you're after when you shop for a new or used vehicle. At James Hodge, our used vehicles are priced to sell right from the start. From there, we pile on even more savings opportunities in the form of special offers and attractive financing plans.
Price isn't the only thing that matters, though – you want and deserve a vehicle that will provide safe and reliable transportation for many miles to come. And that's what we have in stock at our Paris, TX dealership. Our experts perform a thorough inspection of every used vehicle that arrives on our lot, ensuring that it holds up to our high standards for quality before it's listed for sale.
With that in mind, you can move forward with your search for the perfect used SUV for your needs and budget. Browse our selection and start narrowing down your options in our online inventory. Keep in mind that our used vehicles don't stick around for long, so act fast when you find one that looks like a good fit. When you've found your favorite, you can use our handy online finance tools to value your trade, estimate your monthly payments, and apply for a great auto loan.
Claim Your Used SUV at James Hodge Motor Co.
We can't wait to help you find your new-to-you SUV among our selection. If you have a particular vehicle in mind that isn't currently on our lot, we'd like to hear about it. Our team is always willing to go the extra mile to ensure that our customers get exactly what they want when they shop at our Paris area dealership.
And with our commitment to saving you money, time, and hassle, there's no better place to go when you're in the market for a high-quality vehicle – new or used. Kick off your search by clicking around our online inventory and finding your favorites. The rest of your shopping experience will fall into place, and our team is standing by to help you every step of the way.